Managing Director - Samantha Yeadon Msc Dementia, PgDip, BSc, DipHE, CTLLS
Sam has been managing care homes and services for those living with dementia for over 16 years. She is passionate about the individuals that she supports. Sam believes that it is time to dispel with the doom and gloom about a dementia diagnosis and start looking at the best ways for those living with dementia and their families to start living well, in a Different way.
Different Care is a member of the Liverpool Dementia Action Alliance (LDAA) and Samantha represents the company in the alliances co-ordinating group.
For more information on the LDAA please see our Dementia page.

Registered Manager - Maria Stynes BSc, DipHE
Maria completed her nurses training several years ago, since then she has been using and developing her skills within the care industry. She has been working as deputy manager under the management of Samantha Yeadon for the past 2 years and joined Samantha in this new homecare company as Registered Manager due to her excellent skills and knowledge and extensive experience.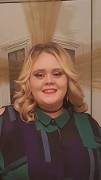 Training & HR Director - Markco Yeadon. PgDip, BSc, PTLLS
Bringing over 25 years experience as a coach/trainer to Different Care. He is a qualified accelerated learning coach with the ILM and certified professional coach through the international coaching academy. Markco ensures that our staff are always up to date with mandatory and specialised training, and that our staff are fully supported in their on-going training and professional personal development, to the highest standards.