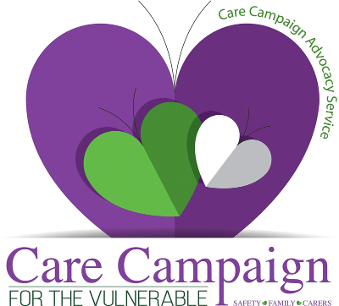 Different Care is delighted to be a supporter of the Care Campaign for the Vulnerable.
This organisation of advocacy service for the elderly was founded by Jayne Connery. Please go to their website for more information about what they do.
Jayne and her team are very vocal on abuse of the elderly and have been campaigning for cameras to be mandatory in care homes.
We fully support this as this abuse has to stop.....
'WE'RE NOT IN IT FOR THE INCOME, WE'RE IN IT FOR THE OUTCOME'
ITS WHAT WE DO WITH OUR PROFITS THAT MAKES US DIFFERENT!
WHEN DIFFERENT CARE PROFITS, THEN SOCIETY PROFITS
DIFFERENT CARE is a family run dementia care specialist organisation founded on great principles where business and investment can be powerful ethical forces for good.
Social impact and financial sustainability are embedded into our organisations DNA. Therefore by selling our dementia care services to the open market, we can then re-invest profits back into the company to support our mission, a mission to change the face of dementia care in Liverpool. Without a change of direction in dementia care, then we are liable to end up where we are headed, for let us be under no illusion that the greatest challenge facing society today is the need for a different care and support for our loved ones. This challenge will touch everyone, either ourselves or those close to us. Without urgent and radical reform the current delivery of dementia care will continue to fail those most vulnerable in our society. 'WE ARE HERE TO MAKE DEMENTIA CARE IN THE COMMUNITY REFORM'.
DIFFERENT CARE will prioritise individuals needs and wishes so they are truly treated with Dignity. Our dementia care and support will be flexible to the needs and wishes of the individual, and won't stick to a rigid ideology that delivers care packages that are prescriptive and homogenised. Different Care will not rush in and out within 15 minutes, as 74% of council visits do (Unison report). Dementia care and support is about meeting the individuals needs at all times. We will not compromise their safety and dignity. Dementia care in the community is about building strong relationships with those we care for, including their families, friends and neighbours who will also receive our full support.
When you use our dementia care services, your loved one will have a care plan that reflects what support is needed, what is important to them, what they feel they can do, and what they want to be able to do. The emphasis will always be on what is important to them. Family members, our care support staff, and your loved ones will all be included in this process. Our dementia support is about consistency and about a team that is well versed and fully aware of an individuals needs.
We will co-ordinate and work in partnership with all agencies involved with the dementia care of your loved one, thus ensuring that all parties are working from the same page - joining all the dots. This way your loved one will truly receive high quality 'PERSON CENTRED CARE'.
A DIFFERENT CARE is one that values those who deliver dementia care by paying staff a living wage with incentives, about respecting their work life balance and above all, respecting the fact that they are the real hero's delivering dementia care and support to your loved ones. Only by training carers with real valued specialised dementia care training can radical reform take place. Training delivered in isolation through DVD's or by a pour and snore prescriptive homogenised technique, does not recognise the learners unique learning style or remove any personal barriers to learning. Real learning comes from 'experienced centred learning programs' from a human, not a mechanical delivery system.
Dementia care is about lifelong learning, for we believe that learning is no longer a preparation for the job - it is the job.
Our staff receive specialised dementia care training, by a 'Masters in dementia' qualified trainer. With twenty years experience in the care sector. Samantha Yeadon combines her knowledge and expertise in dementia and performance coaching to give practical training for practical support. Training delivered with assurance to families that it is not a tick box money saving exercise.
DIFFERENT CARE is offering the radical dementia care in the community reform required - we believe the conversation is not about taking away a person's independence, but about enabling it....
A DIFFERENT CARE THAT SUPPORTS PEOPLE WITH DEMENTIA TO CONTINUE TO LIVE THEIR LIVES TO THEIR FULL POTENTIAL.